Radharani

Krishna

Caitanya

God

God's Holy Names

Krishna Consciousness Movement

Who Is Srila Prabhupada

his Timeline

Months in his Life

Training his Disciples

Questions

Bhagavad-gita

Devotees of God

Devotional Service to God

Discipleship

Guru / Acharya

Essential Subjects

Nectar Drops

What's in Vanipedia now

Glorious Personalities

Yoga

Collaborate with us to invoke and fully manifest Srila Prabhupada's Vani-presence.
---
Introduction to Bhagavad-gita in 108+ Languages
From Vanimedia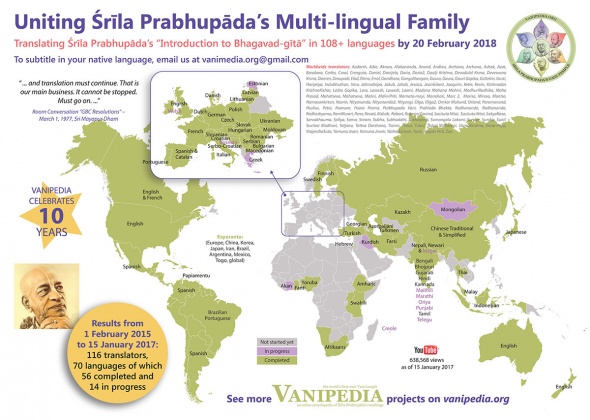 Launched on the 1st of February 2015, our Uniting Śrīla Prabhupāda's Multi-lingual Family project to translate Śrīla Prabhupāda's Introduction to his Bhagavad-gita As It Is, in 108 plus languages, is continuing on. 129 translators have already completed 64 languages, with 11 other languages in process. There are 24 eight-minute videos to subtitle and translating them takes no longer than 48 hours of seva.

Our goal is to complete at least 108 languages by the 20th February 2020 - the 54th Anniversary of Śrīla Prabhupāda speaking it. You can watch the videos and read the texts here.

Taking inspiration from the Bible being already translated into 636 languages and parts of the Bible translated into 3,323 languages, we consider it timely to increase the languages in which Srila Prabhupada's teachings exist. And the introduction to the Bhagavad-gita is a good place to start.

Please consider participating by sending us an email. You can make a wonderful offering to Śrīla Prabhupāda and to the world.

You can read about the project, receive some instructions for translators to start serving and see the article by Madhava Smullen published in the ISKCON NEWS on March 12, 2015

This sortable table, listing over 150 languages, shows for each language the number of Videos translated (24 signifies completed), the translators, the number of speakers and where it is spoken.
| Status of Videos | Language | Translators | Speakers (Millions) | Where Spoken (Major) |
| --- | --- | --- | --- | --- |
| 24 | Chinese Simplified | Yamuna Jivani / Radhananda | 1151 | Asia - China, Malaysia, Taiwan |
| 24 | Chinese Traditional | Radhananda / Jessica | 1151 | Asia - China, Malaysia, Taiwan |
| 24 | English | Rishab | 1000 | USA, UK, Australia, Canada, New Zealand |
| 24 | Spanish | Gandhara | 500 | Europe - Spain, Mexico, Central and South America |
| 24 | Hindi | Suvilasi Madhavi | 490 | India - North and Central |
| 24 | Russian | Irina / Timur | 277 | Europe - Russia, Central Asia |
| 10 | Arabic | Micha | 255 | Asia - Middle East, Arabia, North Africa |
| 24 | Portuguese (Pt) | Nityananda | 60 | Europe - Portugal, Southern Africa |
| 24 | Portuguese (Br) | Gauri Gopika | 202 | South America - Brazil |
| 24 | Bengali | Devadulal Krsna / Deveswara Krsna | 215 | India - Eastern, Bangladesh |
| 24 | French | Marc2 | 200 | Europe - France, Canada, West Africa, Central Africa |
| 24 | Malay | Ashok / Subha / Subhadatri / MaliniPriti | 175 | SE Asia - Indonesia, Malaysia, Singapore |
| 24 | German | Revati | 166 | Europe - Germany, Austria, Central Europe |
| 24 | Swahili | Omkar Mukund | 140 | Africa - Kenya, Tanzania, Uganda |
| 24 | Japanese | Visnu-Priya | 132 | SE Asia - Japan |
| 24 | Farsi (Persian) | Nasrin / Nityangi | 110 | Asia - Iran, Afghanistan |
| 0 | Urdu | open to translate | 104 | India - Pakistan |
| 4 | Punjabi | Krishna dasa | 103 | India - Pakistan |
| 0 | Wu | open to translate | 90 | Asia - China |
| 24 | Vietnamese | Linda / Thi Anh Minh | 86 | SE Asia - Vietnam, China |
| 24 | Indonesian | Gusti | 85 | SE Asia - Indonesia |
| 24 | Javanese | Gusti | 98 | SE Asia - Indonesia |
| 24 | Tamil | Sumangala Laksmi | 78 | India - South, Sri Lanka, Malyasia |
| 24 | Korean | Sue | 78 | SE Asia - Korean Peninsula |
| 24 | Turkish | Lara | 75 | Asia - Turkey |
| 24 | Telugu | KrishnaKishor / VamsiKrishna / RamMurari | 74 | India - South |
| 24 | Marathi | Archana / Milind / Sumeet / Sushil | 72 | India - West |
| 24 | Italian | Mahatseva | 62 | Europe - Italy, Central Europe |
| 24 | Thai | Malini | 60 | SE Asia - Thailand, Laos |
| 0 | Cantonese | open to translate | 55 | Asia - Southern China |
| 24 | Kannada | Prabhupada Vani / Archana / Poora Prema | 47 | India - South |
| 24 | Gujarati | Rukmini Govind | 46 | India - West, Kenya |
| 24 | Polish | Madana Mohana Mohini / Robert | 46 | Europe - Poland, Central Europe |
| 0 | Hausa | open to translate | 43 | Africa - Cameroon, Ghana, Niger, Nigeria, Sudan |
| 0 | Burmese | open to translate | 42 | SE Asia - Burma, Thailand, Malaysia |
| 0 | Pashto | open to translate | 40 | Asia - Pakistan, Aghanistan |
| 0 | Sundanese | open to translate | 39 | SE Asia - Indonesia |
| 24 | Moldovan | Daria & Olga | 20 | Europe - Moldova, Romania |
| 0 | Malayalam | open to translate | 38 | India - Kerala |
| 24 | Ukrainian | Indubhushan | 37 | Europe - Ukraine |
| 24 | Oriya | Sriram / Ritesh / Susovita | 33 | India - Odisha |
| 0 | Marwari | open to translate | 31 | India - Rajasthan, Pakistan |
| 24 | Dutch | Sofiya / Rene | 28 | Europe - Netherlands, Belgium, and Suriname |
| 0 | Haryanvi | open to translate | 28 | India - Haryana, Delhi |
| 24 | Romanian | Daniel / Daria / Mircea / Olga / Crenguta | 28 | Europe - Romania, Moldova |
| 1 | Tagalog | Dawn | 28 | SE Asia - Phillipines |
| 24 | Yoruba | Yamuna Jivan | 28 | Africa - Benin, Nigeria |
| 0 | Sindhi | open to translate | 26 | India - Pakistan India, Singapore |
| 24 | Afrikaans | Tianni | 23 | Africa - South Africa |
| 24 | Nepali | VrajendraSuta / Haripriya / Aadarsh / Sunil | 17 | India - Nepal, Bhutan |
| 0 | Singhalese | open to translate | 16 | Asia - Sri Lanka |
| 24 | Hungarian | Peter / Tattva Darshana | 15 | Europe - Hungary |
| 24 | Greek | Namasankirtan | 13.1 | Europe - Greece, Cyprus |
| 0 | Chittagonian | open to translate | 13 | Asia - Bangladesh |
| 24 | Azerbaijani | Gültekin | 12 | Asia - Azerbaijan, Georgia, Iraq, Iran, Russia, Turkey |
| 3 | Akan | Prahlada Bhakta | 11 | Africa - Ghana, Ivory Coast |
| 24 | Czech | Jakub | 10 | Europe - Czech Republic |
| 0 | Zulu | open to translate | 10 | Africa - South Africa |
| 24 | Bulgarian | Manohari / Sarvabhauma | 9.1 | Europe - Balkans |
| 24 | Swedish | Nityananda2 | 8.7 | Europe - Sweden, Finland |
| 0 | Xhosa | open to translate | 7.9 | Africa - South Africa |
| 0 | Albanian | open to translate | 7.6 | Europe - Albania |
| 0 | Armenian | open to translate | 7 | Europe - Armenia |
| 24 | Slovak | Jakub | 7 | Europe - Slovakia, Czech Republic |
| 12 | Mongolian | Tulasi Maharani | 5.7 | Asia - Mongolia, China |
| 24 | Danish | Jahnudvipa | 5.6 | Europe - Denmark, Greenland |
| 24 | Croatian | Gaura | 5.5 | Europe - Bosnia, Croatia, Serbia |
| 24 | Hebrew | Elad / Sukhayanti | 5.3 | Asia - Israel |
| 24 | Finnish | Mamata-mayi | 5 | Europe - Finland |
| 0 | Norwegian | open to translate | 5 | Europe - Norway |
| 0 | Northern Sotho | open to translate | 4.1 | Africa - South Africa |
| 24 | Lithuanian | Adre / Yugala Priti / Paulius | 3.2 | Europe - Lithuania |
| 6 | Magar | Laxmi/Lawesh/Sundar | .8 | Asia - Nepal, India |
| 24 | Macedonian | Tatjana | 2.5 | Europe - Macedonia |
| 24 | Slovenian | Barabara / Domen | 2.5 | Europe - Slovenia |
| 24 | Latvian | Lalita Gopika | 1.5 | Europe - Latvia |
| 9 | Estonian | MadhuriRadhika / Edgar | 1 | Europe - Estonia |
| 24 | Serbo-Croatian | Gaura | 19 | Europe - Bosnia, Croatia, Serbia |
| 24 | Serbian | Akrura / Alakananda / Danijela | 10 | Europe - Serbia |
| 24 | Amharic | Maha Prasad | 22 | Africa - Ethiopia |
| 0 | Assamese | open to translate | 16 | India - Assam |
| 24 | Papiamentu (Papiamento) | Errol | .27 | Caribbean - Aruba, Bonaire and Curaçao |
| 24 | Catalan | Anand / Andreu / Coral / Carles / Elena / Joaquim / JoanGibert / Zoe / Marisa / Montse / Olga / Orland | 7.2 | Europe - Spain |
| 3 | Mauritian Creole | Soma / Vrajendra Nandan | 1.3 | Africa - Mauritius |
| 24 | Fanti | Droupadi | 1.9 | Africa - Ghana |
| 0 | Bashkir | open to translate | 1.2 | Europe - Russia, Central Asia |
| 0 | Basque | open to translate | 0.7 | Europe - Spain |
| 24 | Bosnian | Daulji Krishna | 3 | Europe - Bosnia |
| 0 | Belarusian | open to translate | 3.2 | Europe - Belarus |
| 0 | Chuvash | open to translate | 1 | Europe - Russia, Central Asia |
| 24 | Esperanto | Mahatseva | 0.3 | Global |
| 0 | Ewe | open to translate | 3.6 | Africa - Ghana |
| 0 | Galician | open to translate | 2.3 | Europe - Spain |
| 3 | Welsh | SakyaRasa / Kevin | 0.8 | Europe - Wales |
| 0 | Uzbek | open to translate | 27 | Asia - Uzbekistan |
| 0 | Udmurt | open to translate | 0.5 | Europe - Russia |
| 0 | Twi | open to translate | 7 | Africa - Ghana |
| 24 | Turkmen | Azat / Tulasi / GangaNarayan / YashodaJivan | 7 | Asia - Turkmenistan |
| 0 | Tswana | open to translate | 7.7 | Africa - South Africa, Botswana |
| 0 | Tibetan | open to translate | 8 | Asia - Tibet |
| 0 | Tatar | open to translate | 5.3 | Asia - Russia |
| 0 | Tajik | open to translate | 4.5 | Asia - Tajikistan |
| 0 | Swati | open to translate | 3 | Africa - South Africa, Swaziland |
| 24 | Newari | Lawesh / Poonam / Sundar | 1 | Asia - Nepal |
| 0 | Manipuri | open to translate | 1.5 | India - Manipur |
| 24 | Georgian | Ketie | 4.3 | Asia - Georgia |
| 0 | Icelandic | open to translate | 0.3 | Europe - Iceland |
| 0 | Igbo | open to translate | 25 | Africa - Nigeria |
| 0 | Karakalpak | open to translate | 0.4 | Asia - Uzbekistan |
| 24 | Kazakh | Radheshyama | 11 | Asia - Kazakhstan |
| 0 | Khmer | open to translate | 16 | Asia - Cambodia |
| 4 | Kurdish | Yasin | 25 | Asia - Iran, Iraq |
| 0 | Kyrgyz | open to translate | 4 | Asia - Kyrgyzstan |
| 0 | Lao | open to translate | 25 | Asia - Thailand, Laos |
| 0 | Limburgish | open to translate | 1.3 | Europe - Netherlands |
| 0 | Lingala | open to translate | 10 | Africa - Congo |
| 0 | Berber | open to translate | 25 | Africa - North Africa |
| 0 | Fula | open to translate | 25 | Africa - West Africa |
| 0 | Malagasy | open to translate | 18 | Africa - Madagascar |
| 0 | Sardinian | open to translate | 1 | Europe - Italy |
| 0 | Maltese | open to translate | 0.5 | Europe - Malta |
| 0 | Scots | open to translate | 1.5 | Europe - Scotland |
| 0 | Irish | open to translate | 1.3 | Europe - Ireland |
| 24 | Bhojpuri | Sacisuta Nitai | 40 | India - Bihar, Uttar Pradesh |
| 0 | Dogri | open to translate | 5 | India - Jammu and Kashmir |
| 0 | Kashmiri | open to translate | 5.6 | India - Jammu and Kashmir |
| 0 | Konkani | open to translate | 7.4 | India - West |
| 5 | Maithili | Paramanand / Sacisuta Nitai | 34 | India, Nepal |
| 0 | Santali | open to translate | 6.3 | India - East |
| 0 | Aramaic | open to translate | 0.4 | Asia - Middle East |
| 0 | Chechen | open to translate | 1.4 | Asia - Chechnya |
| 0 | Venda | open to translate | 1.7 | Africa - South Africa |
| 0 | Tsonga | open to translate | 13 | Africa - South |
| 0 | Luxembourgish | open to translate | 0.4 | Europe - Luxembourg |
| 0 | Tigrinya | open to translate | 7 | Africa - Eritrea, Ethiopia |
| 0 | Susu | open to translate | 1 | Africa - Guinea, Sierra Leone |
| 0 | Southern Ndebele | open to translate | 2 | Africa - South Africa |
| 0 | Northern Ndebele | open to translate | 1.6 | Africa - Zimbabwe |
| 0 | Southern Sotho | open to translate | 8 | Africa - Lesotho, South Africa |
| 0 | Northern Sotho | open to translate | 9 | Africa - South Africa |
| 0 | Soninke | open to translate | 2.1 | Africa - Mali |
| 0 | Somali | open to translate | 17 | Africa - Somalia |
| 0 | Shona | open to translate | 15 | Africa - Zimbabwe |
| 0 | Sango | open to translate | 1.5 | Africa - Central |
| 0 | Oromo | open to translate | 26 | Africa - Ethiopia |
| 0 | Maasai | open to translate | 1.3 | Africa - Kenya |
| 0 | Mende | open to translate | 1.5 | Africa - Sierra Leone |
| 0 | Mandinka | open to translate | 1.3 | Africa - Mali, Senegal |
| 0 | Luo | open to translate | 6 | Africa - Kenya, Tanzania |
| 0 | Luhya | open to translate | 0.2 | Africa - Kenya |
| 0 | Kirundi | open to translate | 9 | Africa - Burundi |
| 0 | Kinyarwanda | open to translate | 10 | Africa - Rwanda |
| 0 | Kanuri | open to translate | 4 | Africa - Nigeria |
| 0 | Gikuya | open to translate | 6.6 | Africa - Kenya |
| 0 | Dyula (Jula) | open to translate | 15 | Africa - Burkina Faso, Ivory Coast, Mali |
| 0 | Chewa (Nyanja) | open to translate | 12 | Africa - Zambia, Malawi |
| 0 | Bambara | open to translate | 6 | Africa - Mali |